OpenCart E-shop Development
Multilingual e-shop development using the OpenCart CMS.
WooCommerce E-shop Development
Multilingual e-shop development using the WordPress & WooCommerce CMS.
Custom E-shop Development
Multilingual e-shop development using Full Custom Code.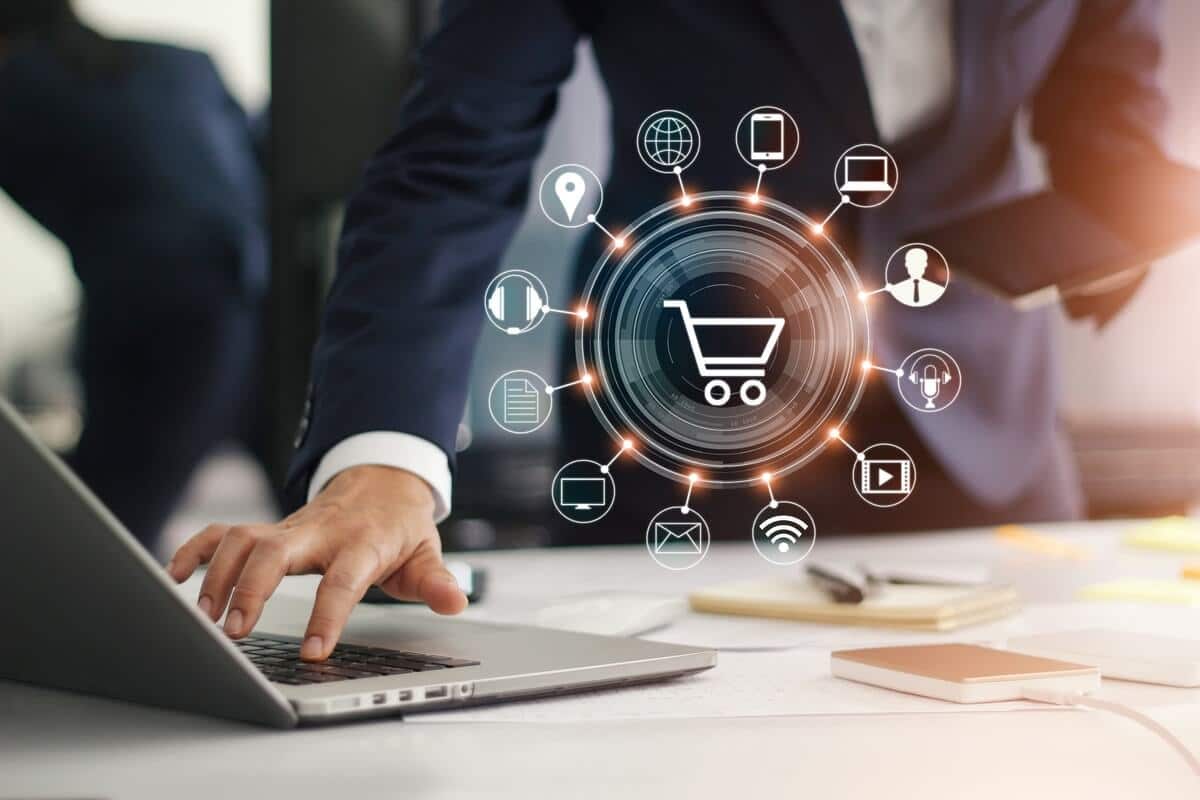 What is an e-shop? An e-shop (online shop) includes the whole process of e-commerce and concerns the retail or wholesale sale of natural and digital products and services on the internet. An e-shop can reach everywhere since everyone who has access to the Internet has access to it.
Unlike a store that only caters to a specific neighborhood or area, an e-shop caters to everyone.
An online store is a tool that takes a company's sales to the next level easily and efficiently. Now in 2021 and due to the unprecedented pandemic conditions, more and more companies are moving to the world of the Internet.
While until recently there were only online stores for clothes or electronics, now there are online pharmacies, bookstores, jewelry, supermarkets, and even baby and diaper stores.
At iZi Media we know better than anyone the problems faced by today's traders with closed stores and closed businesses, declining turnovers, miserable financial situation, and the uncertain future that prevails.

So the best solution is not to have your store closed but to have it open and accessible to the whole world.

iZi Media and all the partners in iZi Media Group are here to create the eshop you have always dreamed of and wanted, at the lowest market prices and with full support.

Our experience, the infinite projects we have completed but also the ambitious and fraternal relations we have with our customers, is a guarantee of success.
OpenCart
OpenCart is perhaps the most widely used content management platform for e-commerce solutions. It is a CMS that offers great features such as security, excellent performance, it is Google – SEO Friendly, and it has a huge library of plugins (plugin – extension – module) through which we can do various things and modifications.
One of its biggest advantages is that OpenCart is Open Source, the core of its code is free and this means that there is a large community that helps to find errors, bugs and create new add-ons.
Some of its advantages are that it is extremely light as a platform, it can accept unlimited products and categories, it has easy product & category management, there is no limit to orders and customer database, and it can accept multiple shipping calculation methods, depending on the country, the region, and also it can accept multiple payment methods.
At iZi Media we consider OpenCart the perfect solution for small and medium businesses that want an easy management system with more than 2 languages. OpenCart is easy and works "out of the box", i.e. easily, quickly, and without much tweaking.
WordPress – WooCommerce
WooCommerce is an open-source software, OS – Open Source, and is a complete sales management solution. Aimed at all small and medium-sized businesses currently active in the internet and e-commerce.
In general, WooCommerce is a WordPress add-on with which we have the ability to create and manage an online store without having to write code. This is why we refer to it as "WordPress – WooCommerce" and not just "WooCommerce".
Created in 2011 by WooThemes and as of today, it is used by 38% of online stores worldwide.
WooCommerce shares a lot in common with OpenCart. They are both Open Source, they are aimed mainly at small and medium businesses, they are easy to manage. You can add products and payment methods easily. They both have an incredibly large community that supports, upgrades, and regularly updates, a huge marketplace to buy plugins – extensions that are needed but have a big difference.
Our experience has shown that in exactly the same Hosting/VPS packages etc. OpenCart does better in over 300 products and over 2 languages. Another important point to note is that in general WooCommerce in multilingual creates additional product pages and databases while in OpenCart the same product can be in 2-3 or more languages. This is important, because in an e-shop of 200 products and 3 languages in OpenCart we have 200 products while in WooCommerce 200 * 3 languages = 600 products.
In iZi Media we believe that WooCommerce is the ultimate tool for creating e-shops for small and medium businesses that do not require many languages or will not have a huge number of products for sale or if you already have a website set up in WordPress and want to make the most of it and sell their products without much effort and expense.
Magento
Magento is an e-shop CMS platform that the largest companies in the world trust to build their online stores (eshops). Some of the biggest and well-known companies like Hellyhansen, Sigmabeauty, Ford, Monin, LiverpoolFC, LandRover, Nespresso, Bjornborg, Jaguar, Olympus, and others have trusted Magento to set up their online store.
The Magento platform provides scalability, flexibility, and business growth potential. Through Magento, you have the flexibility, convenience, and complete control of the presentation, content, and functionality of your eshop.
Magento in relation to OpenCart and WordPress – WooCommerce is not aimed at small and medium businesses. As we saw above, Magento users are some of the giant companies in the market.
Magento in comparison with OpenCart and WordPress – WooCommerce is mainly aimed at more "marketing-oriented businesses", offers connection with ERP services, One-Step Checkout & Guest Checkout, connection with affiliate networks, connection with SMS sending services, connection with almost all European banks, and various other services.
One point that needs special attention is the cost of maintenance and purchase of Magneto add-ons. The cost of updating, maintaining, and purchasing the Magento add-ons cannot even be compared to the cost of an OpenCart or WordPress plugin – WooCommerce. For something that in OpenCart or WordPress – WooCommerce you would need to invest a few tens of euros, in Magento you would need a few hundred or even thousands of euros.
For this reason, at iZi Media we recommend the Magento solution to companies with the scope of the aforementioned or to companies that are in urgent need of complex systems – plugins, extensions of Magento.
PrestaShop
PrestaShop is an open-source e-commerce platform. The software is published under the "Open Software License" (OSL). It is written in PHP programming language with support for MySQL database management system.
PrestaShop is currently used in over 300,000 stores worldwide and is available in 60 different languages.
PrestaShop has more in common with Magento than with OpenCart – WordPress – WooCommerce.
It is mainly aimed at larger companies and the PrestaShop user will face the same difficulties as with Magento. For something that in OpenCart – WordPress – WooCommerce would be done easily, quickly, and economically, here it will be done easily, quickly but not affordably.
At iZi Media Group in general we could not say that we recommend the PrestaShop solution as a CMS. It has similar costs to Magento without being able to be 100% comparable to it. In short, it is a 70% Magento but with 90% of the maintenance cost of the Magento. So better Magento or Custom if anyone wishes!
Custom CMS
By "custom" we mean that the Web Developer has written the code of the online store that has been requested by the customer, always according to his requirements.
The result is an entirely own product, which is unique since usually all the code is written from scratch. This, of course, has both advantages and disadvantages.
Some of the advantages are that the loading speed of the website will be quite high, as long as the code written is correct and does not contain anything added to the selected functions. The appearance and functions that you will find in the custom e-shop will not exist on other websites or if they do exist they will be very few. The configuration is done according to the customer's requests and the appearance but also the functions during the uploading and editing of the products, and the dashboard menu and in general, the whole Back-End and the Front-End are exactly as requested.
But all of these also have terrible disadvantages such as excessive construction costs.
Some of them are the complete dependence of the company on the developer who created the custom CMS, so in case the company wants someone else to take over the management of its e-shop, it will be too hard to find a replacement. Finally, there is the difficulty in adding new features, such as a new payment method, new delivery method, etc.
At iZi Media we recommend the Custom e-shop solution only to companies or enterprises with great financial planning, large projects, such as highly specialized solutions, connection to many warehouses, ERP systems, many countries and languages, and other specific conditions!
Minimal Package
WooCommerce from
Registration of Domain Name

Hosting (traffic dependent package)

SSL/HTTPS Security

Installation & configuration of WordPress & WooCommerce

Theme installation

Multilingual

Caching & speed optimization installation

Installation of import/export plugin
ViP WooCommerce
All in One Solution from
Premium Package

Full integration with social media

Facebook Shop

Installation of import/export plugin

Product feed for connection with ERP & Marketplace

Multilingual (translation into English & 2nd additional language)

Full On-Site SEO

Full speed optimization

Social media integration
Premium Package
WooCommerce from
Minimal Package

Installation & configuration of Global Shipping extension

Installation & configuration of Super Admin extension

Full SEO plugin setup

Installation & configuration of email template for customers

Translation into English (or another language)

Social media integration

Feed creation
Minimal Package
OpenCart from
Registration of Domain Name

Hosting (traffic dependent package)

SSL/HTTPS Security

Installation & configuration of OpenCart

Theme installation

Multilingual

Quick Admin

SEO plugin

Installation of import/export plugin
ViP OpenCart
All in One Solution from
Premium Package

Full integration with social media

Facebook Shop

Installation of import/export plugin

Product feed for connection with ERP & Marketplace

Multilingual (translation into English & 2nd additional language)

Full On-Site SEO

Full speed optimization

Social media integration
Premium Package
OpenCart from
Minimal Package

Installation & configuration of Ultimate Shipping extension

Installation and configuration of Quick Admin extension

Full SEO plugin setup

Installation & configuration of email template for customers

Translation into English (or another language)

Social media integration

Feed creation